OK I'll Admit that am addicted to buying amps !

I am a musician and I love vintage guitars and vintage amps so much that I decided go into the business of buying, selling and trading amps and guitars. I founded Rock N Roll Vintage Inc., a leading vintage and used guitar dealer in Chicago. I love vintage Marshall Amps, Gibson Amps, Fender amps, in fact I like all vintage equipment ! They don't make them like they used to as many tubes, designs and manufacturing techniques have either changed or are no longer available. As as musician I believe Tube amps are the way to go.
I have several partners in my vintage guitar shop in Chicago. We are all vintage guitar and tube amp addicts ! Please see our " how to sell me your amp " page for details on how we can provide a quote to buy your amp head, cab or combo and answer your questions.

If we are interested in your guitar or bass amp, we will offer you a fair price and provide a smooth transaction. Rest assured we have a real brick and mortar store as well as a thriving internet business so we have the resources to pay top dollar for your guitar or amp. Please keep in mind we are looking for clean, original amps that other collectors will be interested in. In most cases we will beat local guitar chain stores, pawn shops and auction or estate sale prices.
You can find more details onselling your amp and how we buy amps on our "how to sell me your amp" page on the top menu of just give me a call at 773-878-8616 or drop me an email at vintageguitarbuyer@sbcglobal.net

Thanks for considering selling us your amp. - The gang at Rock N Roll Vintage


Click here to See our Rock N Roll Vintage Inc. Vintage Guitar Shop Web Site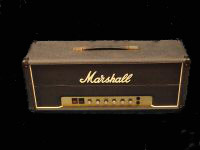 Selling your Amp ?


Buying, Selling & Trading Amps. We buy Gretsch Amps • Marshall Amps • Buying Fender Amps• Bass Amps • Sell Your Amp Collection • Bassman • Marshall Plexi • Tweed or Black Face • Selling a Fender Champ, we're Buying Champs • Marshall Plexi • Marshall SLP • Fender Vibroverb • Deluxe • Marshall JMP Heads • 2x12 and 1x12 Cabinets and any other vintage or collectable amps in good condition.
Copyright 2022 - We-Buy-Amps.com, a division of Rock N Roll Vintage Inc.